Should I Find Real Estate Sellers or Buyers First?
If you are new to real estate wholesaling, you may be wondering, "Should I try to find real estate sellers or cash buyers first?"
It's a similar concept to the old chicken-or-the-egg debate. After all, you are going to need real estate sellers that are motivated to close a deal on their property, but you will also need investors that are willing to quickly buy the deals you find.
In most cases, it makes sense to begin building a database of both. But if you are just starting out, your time is limited and you may need to focus more of your energy on one or other.
When it comes to the question of "Should I focus on finding real estate buyers or sellers first?", there are two schools of thought.
We'll cover both here in this Wholesaling 101 article.
School of Thought #1:  Find Real Estate Sellers First!
In the vast majority of markets across America, there are plenty of eager investors ready to purchase a property in cash so long as there is a significant profit to be made. This is why most experienced wholesalers are more interested in finding properties that can be quickly flipped to an investor.
The thinking goes: "If I find a great deal, the buyers will come"
Why You Need to Find Real Estate Sellers First
The real estate market follows the basic principles of supply and demand, just like any other market you could think of.
Generally speaking, investors want to buy real estate at 70-80 percent or less of its future value, minus repair costs. This means not just finding the real estate sellers first, but a seller who is willing to let the property go at a price that truly reflects the needed work, thus at a solid discount to future market value.
If properties presenting this type of investment opportunity were incredibly easy to find, there would be no need for wholesalers.
When you have a deal locked up under contract that offers a potential investor a juicy profit margin, finding real estate buyers and making a sale happen will not be difficult. In most markets, right now, hungry cash buyers are plentiful.
Just visit your local real estate auctions or tax sales and you'll see bidding wars.
So find the deal first, and you will easily be able to find at least a couple dozen interested investors by:
Running classified ads in the local newspaper in the Real Estate For Sale section.
Posting your deal on social media.  There are specific real-estate investing groups on Facebook and LinkedIn that are crawling with cash buyers (You can post flyers like this)
Posting ads in Craigslist, offering the house for sale and showing pictures and details.
Going to your local real estate investors association or club (Google will help you) and announcing the deal, handing out flyers, etc.  (You can hand out flyers like this)
Contacting all of the We Buy Houses ads in the paper, in google search results, billboards, and bandit signs on the road.
This is why you need to find real estate sellers first. A qualified investor is far more likely to take you seriously when you have a viable investment property to sell.
It is also worth noting that legit investors can close on the sale of your property in a matter of days. This is largely because he or she is paying in cash. In a market filled with competing investors, he or she does not want to risk missing out on an excellent opportunity.
School of Thought #2:  Find Buyers First!
Here's the flip side to the way of thinking we just went over:
Before you look for something, you need to know what you're looking for!
If you are not very familiar with your target market, your marketing dollars will vanish quickly if you are just blasting letters or postcards all over the place and not finding reliable real estate buyer leads.
You will also have a much harder time knowing when a good deal hits your desk if you don't know what your buyers are looking for.
So instead, find a few real estate cash buyers in your market and find out EXACTLY what they're buying:
What neighborhoods and zip codes?
What profile of properties?  3/1 ranchers or 4/2 capes, for example.
What is their specific investment criteria?  For example:  "75% of ARV, light rehab".
Will they buy land?  What about tenant-occupied?
Etc etc.
There are many benefits to being able to zero in on EXACTLY what your buyers want first:
You can stretch your marketing dollars and efforts much further by zeroing in on the most in-demand areas and properties and ignoring the rest.
You will have buyers already lined up to strike if you can bring them the right deal.
You will have a much easier time knowing when a deal is a deal as it hits your desk.
You won't risk under-bidding or over-bidding on a deal and losing it because you'll know exactly what to offer, since you know what buyers are willing to pay.
Overall you'll work less and make more.
Here's my ultimate advice if you're just starting out:  Follow the school of thought #2.  Meet with a few REAL, consistent, active buyers in your target market and find out exactly what they're looking for.  Then go out and find it.  This will allow you to keep your initial marketing budget to a minimum and hopefully get some quick deals under your belt.
Final Thoughts
Whether you're going out and looking for deals first, or lining up buyers and then going hunting for deals for them, it's important that you familiarize yourself with the local market and become great at talking to sellers.
It may take contacting a large number of sellers before you find one willing to give you the deal under contract. In my experience, you have to talk with 30 or 40 sellers before one of them accepts your offer.
But, once you have that property under contract, the real fun begins and you start cashing checks!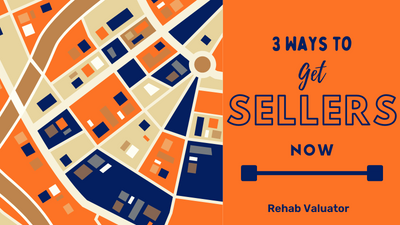 3 Ways to Get Sellers Now