Seller Financing – Finding Sellers and Strategies that Bring in Profits!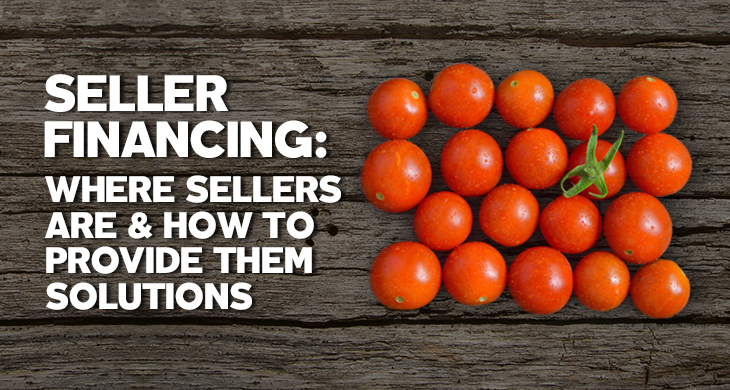 —————————————————————————————————-
PLEASE NOTE:  This is meant to be a surface level primer on Seller Financing and how to structure a seller financing deal, not a full-blown course. The idea here is to make "some major light bulbs go off in your head!".  We are first and foremost a software company but we also aim to educate our clients on real estate investing, so that they stay ahead of their competition.   Seller Financing is, these days, a highly regulated field, so if you engage in these deals, make sure you have proper legal representation review your docs and deals!
——————————————————————————————————-
Imagine this scenario…
You're an average Joe who's trying to sell his home. You're heading into retirement, and it just doesn't make sense for you to keep your large home when you could benefit from the equity instead. Unfortunately, your home has not held its value well, and you know you won't get full asking price for it.
Along comes a potential buyer with his real estate agent and offers you 60% of your asking price. You're discouraged, but you do consider taking it.
Then along comes an investor who tells you about real estate seller financing, and offers you 100% of your asking price.
Which deal do you take?
This is not a trick question, folks. 100 > 60. In most cases, the seller would take the investor's deal.
Now imagine if you could offer this creative solution to sellers. Seller financing is becoming a more common and sought-after option for sellers in the real estate world.
In my previous post, I talked briefly about my chat with Mark and Terry – real estate brokers, mortgage loan originators, investors and seller financing extraordinaires from San Diego.
Together, in that first post, we gave you a ton of awesome info about seller financing real estate, and why it's a great exit strategy for people who are, perhaps, looking for alternative solutions to land lording or selling their house at a loss. Check out the details from my discussion with them in this post.
Today, I want to continue on this same thread of thought.
I'll cover:
Where to find sellers for seller financing deals
Why seller financing can often be a better option for you than wholesaling
How the seller financing process works, exactly and strategies to try
Again, this all comes back to the common theme of making sure you can offer your sellers multiple solutions.
More solutions = higher likelihood that you'll make more deals. And more deals, of course = a more successful and financially profitable career for you.
So, let's get to the good stuff…
Where are our sellers?
As Mark and Terry point out, there are roughly 73 million Baby Boomers in the U.S. Finding sellers shouldn't be too difficult when you think about the sheer size of that demographic! This is a MAJOR group. We've never had a population segment this large before.
Now, these are people who are entering retirement at a time when healthcare costs are spiraling higher and higher – plus, people are living longer, so they need income for more years post-retirement.
See, 90% of the wealth of these Boomers is wrapped up in home equity, so many of them are selling their properties to achieve the comfortable retirement lifestyle they want.
We also have low-equity homeowners – about 10 million of these folks. These are the people who have only about 10% or lower of equity in their homes.
So, that 10% isn't much, particularly with properties of lower value. And if you are able to provide them a solution (such as being a matchmaker for the buyer and seller), they are probably more likely to work with you.
You have the opportunity to become a provider of 2 solutions to these sellers:
Mo' Money

Boomers who are retiring can't live off of a .25% or .5% interest rate – that will not provide them enough monthly income to survive.
If you're able to give these sellers a 7% interest rate, for example, that's significantly more than what the banks are going to pay them.
Mo' Options
The Seller Financing strategy offers them an alternative to a short sale or For Sale By Owner.

Instead of losing the house to the bank, you may be able to offer them more money by doing a seller finance deal with them.
If the seller is thinking about renting out their house and living elsewhere, you can offer them an alternative to landlording
Now, back to one of our original question:
Where are our Buyers?
We're looking for people who don't qualify for traditional financing.
They might be…
Immigrants

 

– There are Foreign National programs that require immigrants to put a down payment on a home of about 50%. It's just not doable for most people. But YOU can provide the solution of seller financing – by explaining to these people that they only need, say, 20% down.
Renters

 

– Millions of Americans

 

want

 

to buy but simply can't. If you can offer the solution of allowing these people to buy for virtually the same monthly payment as their rent, they would probably be pretty willing to do that
Be creative – there are many other "target markets" here you can tap into
So, now that you have a better idea of which demographics might benefit the most from seller financing, let's explore the benefits of this type of financing…
#Winning in More Ways Than One
Now, this all sounds great – but why exactly is seller financing better than wholesaling?
Side Note: If wholesaling is working for you – that's great. Don't let me rain on your parade. But maybe this is or might eventually become an ideal alternative for you.
As Mark and Terry explain, seller financing is better, safer and smarter than wholesaling for these reasons:
Easy:

 

There's much less seller resistance. You're able to offer them full price for their property – what seller wouldn't want that?!
Conundrum solver:

 

It can be a solution for people who have no income, perhaps are retired, and need to cover their healthcare and living expenses for the next X number of years.
Win-win:

 

It's more profitable to you

 

and

 

the seller.
Move it along:

 

It's just as fast as wholesaling.
Ready and willing:

 

There's a large and eager buyer pool for seller financing.
Seller financing has become the most valuable way to "upgrade a home", for all of the reasons listed above.
From A to Z: How Does Seller Financing Work?
So let's talk about how to structure a seller financing deal.
There are really multiple strategies here and it's all about what you want to accomplish:
Strategy 1: Buy with Seller Financing and Rent out the property to tenants.  You get to avoid having to deal with banks or private lenders.  Instead let the seller be your bank!
Strategy 2: Buy with Seller Financing and flip the deal to another investor!  The deal will be quite attractive to another investor for the reasons mentioned above and you can collect a nice fee, often bigger than a typical wholesale fee.
Strategy 3: Buy with Seller Financing, use a private investor or your own money to renovate then flip to a retail buyer.  Again, the seller is your bank here for the short-term until you flip the deal.
Strategy 4: Buy with investor's money or your own cash, then sell with owner financing.  Selling with financing (or "with terms") will allow you to command a much higher price, even if you've done zero rehab to the property!  Read that last part again.
This last strategy is a super powerful one and bears some clarification:
The process:
You buy the property using an investor's money
You set up two

 

seller financed notes

 

(first and second) and sell with financing using those notes
You sell off the first mortgage and hold on to the second mortgage (known as the "tail") – which is all cash flow.
Selling off the first note allows you to pay off your investor in full. Now you don't own the property, you don't own the 1st

 

note, but you do own the 2nd

 

note (which is called "the tail")
The 2nd

 

note, that you own debt-free is pure cashflow!
APPROACHING SELLERS
Really, there are no rules with your real estate purchase contract – it's a blank piece of paper, and you are the "artist," as Mark says. He also points out, though, that there are certain disclosures that you must include, in accordance with state and federal laws.
When you present the contract to the seller, make sure you put together an amortization schedule, because it will make your offer look that much more attractive.
Plus, your seller can see how much more they'll be getting than if they were to go the traditional route of selling through an agent, listing on MLS, paying closing costs, etc.
You don't want to give your sellers just one solution, because if they don't like your solution, you're done. But if you offer them multiple solutions, you're more likely to be able to help them.
If you can get them to compare your 3 offers, for instance, instead of comparing your single offer against the offers of other investors – you win, regardless!
So maybe offer them:
1) Cash in 15 days
2) Cash in 45 days
3) Seller Financing
If they agree to do business with you, next you'll either close the deal or assign the contract to a buyer. And, again, there's a huge buyer pool out there for this type of financing, Mark says. The buyer pays you – and it often ends up being just as much, if not more, than you would take away from a wholesale deal.
High Fives All Around
Really, when you think about it, seller financing is a beneficial option for many people and can be an awesome solution for you to offer sellers.
Remember, don't be a 1-trick pony. You won't get many deals and your closing ratio will be lower. Offer a variety of solutions and your effort will pay off. 
"There are no problems, only solutions."
~John Lennon
And above all, keep in mind that seller financing is a dynamite strategy that can truly skyrocket your business.
Now, to give you an even more well-rounded idea of this whole process, next time I'm going to delve into more details on note creation as well as the compliance/regulatory aspects of seller financing – including the Dodd-Frank Act – because it's definitely important stuff to know.
So if you're serious about seller financing, keep an eye out for that upcoming blog post.
In the meantime, start brainstorming potential sellers in your area that might be interested in this type of financing and be prepared with multiple solutions.
Until next time,
~Daniil
Speak Up
In what other ways do you think seller financing can be better than wholesaling? Talk to me in the comments below.
Comments, Questions?
What burning questions do you have about seller financing? Talk to me in the comment box below.