Finding Off-Market Real Estate Deals: Part 5 – Direct Mail
Direct mail marketing in real estate is one of the most useful marketing tools that you – as an investor – can use to find awesome deals.
For a lot of wholesaling and house-flipping businesses, direct mail is THE "bread and butter" marketing strategy that generates a constant flow of deals.
Real estate direct mail marketing is great because you can easily find targeted lists online (we'll talk about that in a second) and you can scale this marketing method as much as your budget allows very easily.
Before I dive into real estate direct mail marketing specifics, let's quickly recap some of the other deal-getting investor strategies I've covered in this series. Check out our post on developing a Wholesale Real Estate Marketing Plan). Last time, I touched on how to find FSBO properties, inherited leads, and how to create effective bandit signs.
If you haven't read the first 4 parts of this Free Wholesale Deal Sourcing Course, then start by reading our articles about off-market real estate deals.
Ok let's keep going.
Real estate direct mail marketing is similar to bandit signs in that it's a printed way of advertising. On the other hand, direct mail (especially, yellow letters) should be much more personal – or, at least, seem to be much more personal.
So, where do we start? With the basics, of course…
First let's talk about building your direct mail marketing lists. Then we'll talk about what to mail!
Finding and Building Your Direct Mail Lists
With real estate direct mail marketing, obviously your mailing list is going to play a HUGE part in the success of this marketing technique. You want your list to be thorough so that the recipients on the list match your investment criteria to a T. Otherwise you'll waste marketing dollars and be inundated with phone calls from people who are far from your ideal prospects (non-motivated sellers or under-water sellers).
Where do you go to find lists to mail to?
National List Sources
My two favorite direct mailing list sites are:
Once you're on one of these sites, you can start selecting and narrowing down your mailing lists. Keep in mind each lead will cost you money, so you will want to start off with as narrow targeting as possible to keep your costs down.
To do that, make sure you focus on these aspects when creating your list:
Location: Knowing your target zip codes is essential.
Absentee Owner: I highly recommend specifically targeting absentee owners. Target the homeowners who have a rental, vacant, or vacation home (since it's not their primary residence, they may be more motivated to sell).
Purchase Date: Go after properties that have been owned by the current owner for at least 10 years. This will help you weed out the homeowners who don't have much equity.
Date of Birth: When it comes to age of the homeowners you're targeting, older may be better. People approaching their retirement may be motivated to get rid of their rentals (or maybe their children are pressuring them to get rid of their rentals) or they're interested in downsizing.
Tax-Assessed Value: I'd recommend setting parameters for tax-assessed value because it will allow you to filter out the properties that are not in your target price point.
Size and Bedrooms:Again, you may have a preference on the size of the home. You also might want to take into consideration the number of bedrooms so that you don't get vacant lots in your results (unless, of course, vacant or infill lots are your thing!).
Local List Sources
Tax-delinquent property lists are KILLER lists to mail to! Each county collects real estate taxes within their jurisdiction. When people fall behind on real estate taxes, eventually the local county will foreclose on the property. But it typically takes years for this process to happen. In the meantime, these properties are PRIME TARGETS for you to focus on.
Why? Well, for starters these are usually free & clear. If they had a mortgage on them, usually the lender would require real estate taxes to be escrowed and paid. Those properties that fall behind on taxes usually don't have mortgages. They have been inherited, passed down, gotten through divorce, or just paid off a long time ago.
If the owner doesn't care enough to pay taxes, then they don't care at all about the property and will sell it to you at a good discount!
Where do you get these lists? Generally, these are not available in national online databases.
Instead, you'll have more luck finding them at your local county courthouse. For instance, in my county, I was able to obtain a list of more than 26,000 tax delinquent properties – that's an incredible number of leads! Go down to your local county and ask around. They will make the lists available to you.
What Should I Mail?
There is no right answer here. Just like picking your lists, your success will come down to trying and testing different mediums and tracking every mailing campaign religiously! Then you get rid of losers, and scale the winners.
Yellow Letters: A Tried & True Real Estate Direct Mail Marketing Method
Yellow Letters have been one of the most effective real estate direct mail marketing methods over the last ten years or so. They work. But keep in mind that they've also been used so much by so many people that sellers have probably seen them many times. So use them, but only as part of a bigger test against another form of direct mail.
Here are the reasons why yellow letters can be effective:
They're personal. Yellow letters come in an envelope with a handwritten address – which will immediately catch peoples' eye – because they'll think it's a note from someone they know.
They're concise. The messaging in a yellow letter is brief but informative. Nobody got time to read long letters, right?!
They're local. The local phone number and return address will be familiar to the recipients. Again, this draws interest and will make you seem more like a "real" person and not a distant corporate entity.
So, what kind of response can you expect from yellow letters? You're going through all this effort, after all – the least I can do is give you an idea of what results this could yield.
Well, consider this: postcard advertisements often have a recipient response rate of less than 1% and business mail has an average response rate of 1% to 2%. But, in my experience, yellow letters consistently have a response rate of 3% to 10%.
What's the reason why yellow letters have a high open rate?
It's because they're intriguing! The handwritten envelope will induce curiosity in the recipient just about every time. I mean, who wouldn't open that up? And yellow letters are also not easily forgotten – because of their uniqueness.
"Writing isn't letters on paper. It's communication. It's memory."
~Isaac Marion, American Writer
Remember, your letters should be brief, simple and direct. Like this: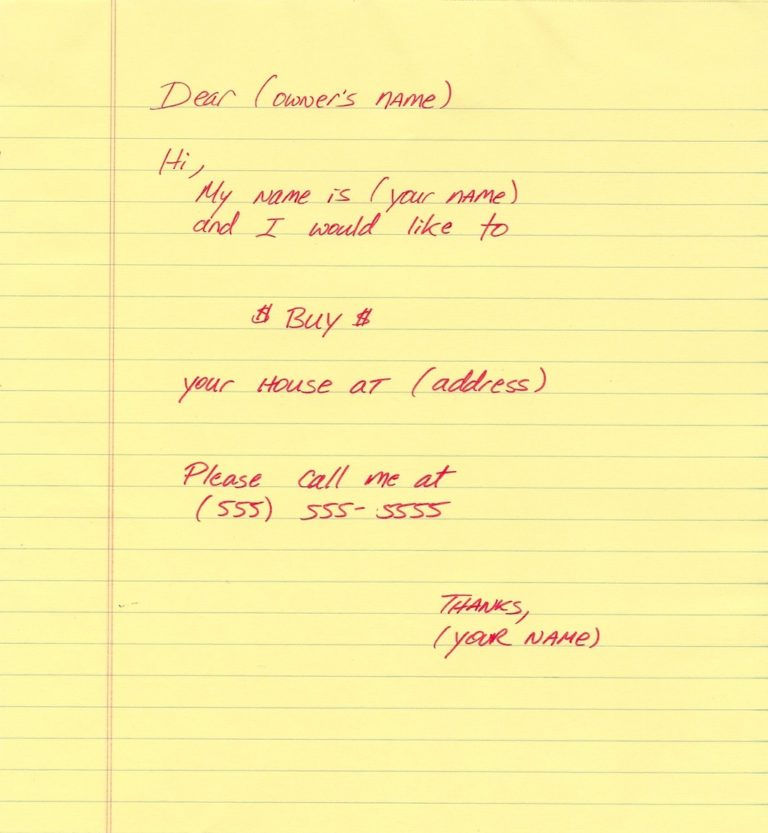 How To Launch a Yellow Letter Campaign
When it comes to launching yellow letter campaigns, you really have a couple of options:
Do it yourself. Grab a yellow pad, handwrite the envelopes and the letters. Lick a stamp. And you're off! This will the cheapest way to do it, but after a few letters you'll run out of steam.
If you don't have time to write each individual yellow letter, try this technique… Buy a yellow legal pad, set up a template in Word by using a font that looks similar to handwriting, and print the letters on the yellow legal pages (instead of regular white printer paper). It's super easy, and your letters will still have that handwritten "appearance." You can do the same with envelopes. This will allow you to still save money, but you'll be able to crank out more real estate direct mail letters.
If you're looking to save time and do large volume mailings, go the automated route and use one of the vendors out there. FYI – you can also source lists through some of these vendors. Usually you simply pick out a template on their site, upload your list, and click "send".
Couple of websites to check out for automated mailings:
www.YellowLettersComplete.com
www.YelllowLetters.com
www.GoBigYellowLetter.com
Other Direct Mail Pieces to Test
I think yellow letters are a great place to start but you should test them against other types of real estate direct mail marketing. So, here's what I would test against:
Generic cards. These are cheaper than letters but less personal. You can hit more people for the same budget, but more people are likely to just toss your card in the trash vs. opening and reading your letter.
Plain white letters. With or without letterhead. These have actually worked very well for me. Again, if everyone is sending yellow letters, you should be trying something different. Sometime a plain, white, typed letter will work better. It looks more professional. Your company letterhead will add credibility to your mail piece and may encourage the seller to take you more seriously.
Start Your (Direct Mail) Engines!
Alright, that's enough for today. Go and create some real estate direct mail campaigns!
Remember, even though real estate direct mail marketing may not be the most "modern" of deal-getting investor strategies, it's a tried and true, proven method. By making the effort to send something personal (or that appears personal), you'll reap the benefits of more property steals. Direct mail is effective – period.
Talk again soon,
~Daniil
Comments, Questions?
What content ideas do you use for your yellow letters? Talk to me in the comment box below.