Finding Off-Market Real Estate Deals: Part 6 – Online Driving for Dollars, Finding Vacant Lots, and Using Online Public Tax Records
If you're looking at the title of this blog post and thinking, "I have no idea what that means. Is this something like Driver's Ed?" – don't worry, I can explain…
You might already be familiar with the phrase "driving for dollars" (which I covered in my previous Finding Foreclosures post). It simply means searching for real estate deals by literally driving around town in your car (or paying someone else to do it).
But – instead of physically driving around in your off-market property search, which can be a big time-suck, you can actually "drive" for dollars online.
Note: this strategy primarily works great for very targeted searches in terms of area and your target property, especially land. This is a "sniper" method not a "fishing with dynamite" like direct mail can be, for example.
How to Start Driving For Dollars Online
I specifically use this strategy to identify vacant infill lots to buy for my new construction business.
To start your online driving for dollars process, track down the online public tax records in your area.
In my neck of the woods, we have a site called Richmond Parcel Mapper that's simply a map of properties that links to tax records.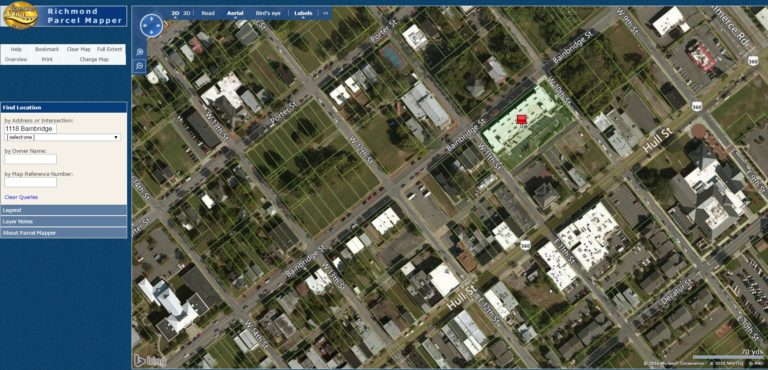 Most such maps will have an aerial view of the area that you can switch to.
Sites like this have loads of information for each property, especially vacant lots, such as the size of the lot, the zoning and sometimes even the mailing address of the owner. Check out this video:
If you can find a similar online tax record resource for your market, it'll help you out BIG TIME in finding off-market real estate. Literally, this is driving for dollars in the comfort of your own home (attention to your appearance is not required – hellooooo PJs).
Once you pull up the tax records for a particular property, copy down the mailing address for the owner, then send them a direct mail piece or look up their phone number or social media profile and reach out to see if they'd be interested in selling their real estate property!
Again, remember – this is not a super scalable model where you can do mass marketing. It's a way to really zero in on your target properties and do extensive research on them before approaching the sellers or after you've already found a motivated seller and need to formulate your offer.
That's it – go do some wholesale real estate deals!
Comments, Questions?
Talk to me in the comment box below.