September 2023 Software Update
Our recent software update made two small but mighty changes to the Rehab Valuator software! Whether you're a Lite user or a Premium user, it's now easier than ever to calculate After-Repair Value (ARV) and As-Built Value (ABV) for Commercial real estate deals. Premium users, you may have noticed the Revamp to your Reports Menu as well!
Calculate ABV and ARV for Commercial deals fast!
When analyzing rent or BRRRR deals, whether ground-up or rehabbing an existing property, we showed you how to calculate ARV & ABV by hitting your market Cap Rate.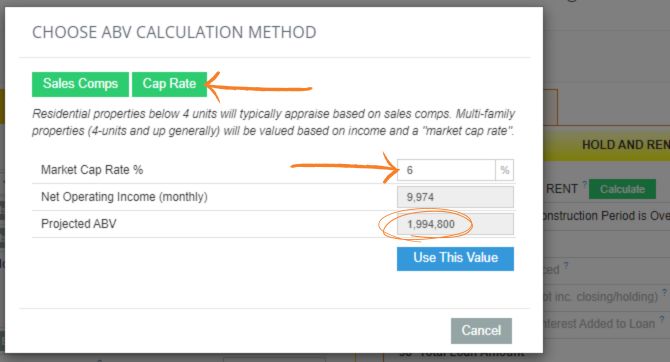 The same goes for Commercial deals. When analyzing Commercial deals, the ARV or ABV isn't valued based on comps but on your Net Operating Income (NOI) and market Cap Rate.
Now, instead of having to guess and check, enter operating income and operating expenses to find your NOI and click Calculate. If it's a residential property, you can still access the sales comps as usual. If not, click Cap Rate, enter your Market Cap Rate % and your ARV or ABV is INSTANTLY calculated!
So, whether building ground-up or rehabbing an existing property to hold, it's ten times easier and faster to calculate an accurate ARV and ABV that you're confident in.
*This next software update is only available in the Premium version of the software.
Reporting Revamped!
Clicking on Reports brings up a completely revamped menu. We've made this more directive so you quickly know which report type to choose based on your project!
Wholesalers – use the top two buyer presentations to sells deals to buyers and build your cash buyers list.
The three options below those will bring up Lender Funding Presentations. Whether Private Money, Hard Money, Banks – these are for investors raising, you guessed it, money. Money to buy, renovate and hold a house, apartment building, commercial property, etc.
If you're doing ground-up development to hold or BRRRR, there's now a Construction & Perm Loan Funding Presentation (Banks) option. It has everything a banker wants to see when deciding to fund your deal!
Only seeking funding to cover Purchase of the Property and Construction/Rehab Costs? Raising money from a Private Money Lender? Use one of the Short-Term Lender Presentation options. These are for those short-term loans that are paid off on the refinance or sale.
Whether you're a wholesaler marketing your deals or an investor looking to raise capital, Rehab Valuator Premium has the report you're looking for.
See you for the next update! Until then, would you please leave us a comment? We'd love to hear from you 🙂
Haven't Tried Rehab Valuator Premium Yet?