Technology vs. Relationships – Which Matters More in Real Estate?
What Should You Invest Your Time in When it Comes to Technology vs Relationships in Real Estate?
I've been thinking about the topic of real estate technology vs real estate relationships for a while, so thought I'd share my thoughts as it relates to investing.
Real estate has always been an "inefficient information business", meaning the really juicy information that allows people to make money is not readily available to everyone.   Doing research, hitting the streets, being creative and able to create value where nobody else sees it, has always allowed people to make large profits.
I've always loved real estate because you can actually buy something BELOW today's market value.
Think about it.  And try comparing that to the stock market, for example.
Making a Profit in Real Estate Depends on…
Profits in real estate have always gone to people with information that others don't have and relationships that others want.
Case in point:  you find an off-market abandoned commercial building, buy it for $100k, renovate for $300k, lease it out to a start-up restaurant and the building is now worth $600k.    You just built $200k in equity and a nice cashflow stream from the restaurant.
Profits went to you and not someone else because you found something that others didn't know existed and negotiated a deal that others couldn't.
But we are living in a time of absolutely incredible technological change.    The cloud, mobile devices in every hand, wifi everywhere, informational infinity at your fingertips – and we're just getting started.
Every industry from taxis to TV to travel is getting revolutionized by technology.
And real estate is no exception!  There's new real estate technology that makes it easier than ever for investors to find deals, analyze them, connect with other investors, sell their deals, outsource work to VAs half a world away, and do more faster and better.
My company, True Vision Analytics, not only produces our own technology platforms (Rehab Valuator, Rental Valuator) but we have started Angel Funding other real estate technology platforms as well!
As of writing this, we are getting ready to launch a completely revamped cloud-based Rehab Valuator platform with enhancements and features that would have been impossible to launch a few years ago! (stay tuned).
As for angel funding and venture capital, Tenant Turner was the first such company we invested in.
They're a local company out of Richmond, VA that make it much easier for management companies and leasing agents to lease out their properties without having to take phone calls or answer emails.  They recently got accepted into Y Combinator and are growing market share very quickly!
I am now evaluating other start-ups in the real estate space for seed investment.
Real Estate Will Always be an Inefficient Information Business
There's no question – real estate technology platforms can significantly enhance your ability to do deals and make money.
BUT…and this is a big BUT:
Real estate will always, to some degree, be an "inefficient information business", no matter how much technology evolves.   There will always be information and opportunities that will not be publicly available.
And deals – especially bigger deals – will always be done between people who have real relationships between each other.
The real profits will ALWAYS go to people that go out, find off-market opportunities rather than the low-hanging fruit, and figure out how to take advantage of those off-market opportunities creatively.  
Technology vs. Relationships, Which One Matters More?
So what's my point?
Technology is hugely powerful and I implore you to use it and learn it. But it will be an enhancement to your real estate business, not a driving force behind it.
To expressly rely on any one real estate technology or platform to build and run your business is a huge mistake and you will ultimately fail. 
Go out and build relationships.  Get to know people.  Get to know buyers, sellers, developers, agents, brokers, title companies, business owners, private lenders, bankers, etc.  Those real estate relationships, carefully and patiently cultivated will bring you profits.  Not the fancy new software platform you just signed up for, even mine.
Again – the Rehab Valuator software will help! But don't ignore the same fundamentals that have made this business amazing and profitable for centuries and will continue to do so for centuries to come. Building relationships in business is important!
The market that I am active in – the market where I currently have 20+ development projects either active or in permitting – I know very intimately.  I know or make an effort to know virtually every local player, big or small.  Wholesalers, rehabbers, brokers, developers, business owners, etc.
It's these relationships that ensure I get brought deals first by wholesalers.
It's these relationships that ensure I know of every development happening locally and how it may affect my own projects.
It's these relationships that ensure I get great tenant and seller referrals from other professionals.
It's these relationships that ensure I have virtually unlimited bank and private money at my disposal whenever I need to pull a trigger on a deal.
It's these relationships that ensure I get a heads-up about deals before they hit the market (MLS, Loopnet, etc).
You get the idea.
None of this has come from a magic website somewhere.  It came from getting to know people, shaking hands, helping them grow their businesses first and foremost, connecting them to other relationships, etc.
So get off your Facebook, LinkedIn, Twitter, or whatever other website you spend entire days on.  Go take some people to lunch and ask how you can help them.  Go hit the streets, find off-market opportunities that other people don't know about.  And then use your real estate relationships to put deals together that create inefficient, outsize profits – precisely because this business is one of the few that still allows you to do this!
(If you enjoyed this blog post and found it useful, please share on social media using the buttons below and leave me your comments/thoughts!)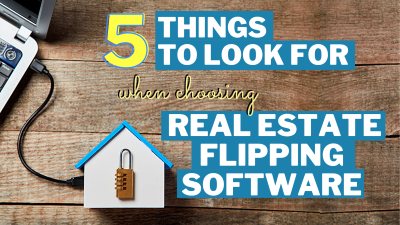 5 Things to Look For When Choosing Real Estate Flipping Software
STOP Reading the News (Or How to Change the World by Having No Idea What's Going On In It!)